After a lot of waiting and hoping and webpage-refreshing, the Academy of Chocolate Filled Chocolate Awards 2017 have been released!

Last year was our first time entering these awards, and we were thrilled to receive awards for all of our entries, along with the "Rising Star" award (read about last year's Academy of Chocolate Awards here). This year, we decided to be brave and entered 10 items for judging. There was a lot of time spent nervously watching photos tweeted by the judges, trying to spy our chocolates on the plates (I think we spotted a few on the first day).
As it turns out, we didn't need to worry and are extremely happy to announce that all 10 items won an award – 6 Silver and 4 Bronze!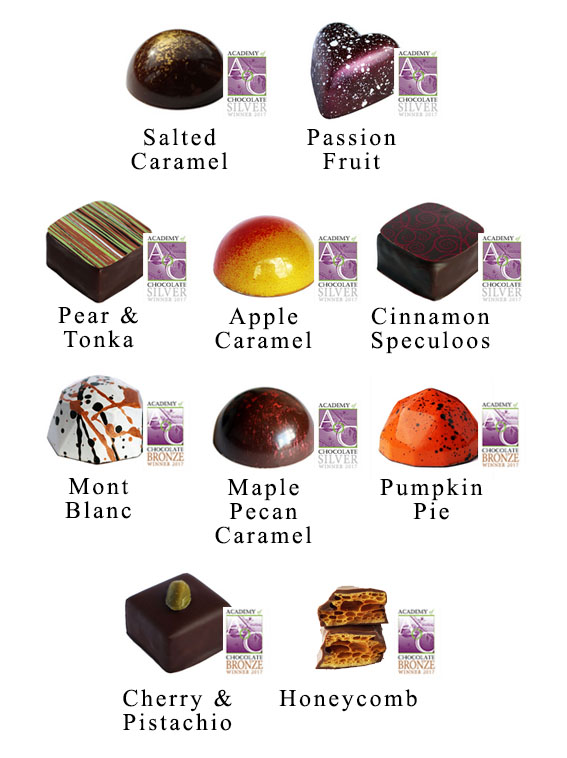 Here's a complete list of our newly awarded items :
Silver (Fruit Ganache) – Passion Fruit
Silver (Salted Caramel) – Salted Caramel
Silver (Other Caramel) – Apple Brandy Caramel
Silver (Other Caramel) – Maple Pecan Caramel
Silver (Nut Based) – Cinnamon Speculoos Praline
Silver (Layered) – Pear & Tonka Praline
Bronze (Layered) – Pumpkin Pie
Bronze (Layered) – Mont Blanc
Bronze (Layered) – Cherry & Pistachio
Bronze (Flavoured Other) – Honeycomb in Milk Chocolate
You can read more about all of our award winning chocolate bonbons on our new Chocolate Menu page.
More results from other sections in the awards will be released soon. Right now, we're looking forward to the awards ceremony later in the year to catch up with friends and celebrate everyone's achievements at the Academy of Chocolate Awards 2017.