After a lot of waiting and hoping and webpage-refreshing, the Academy of Chocolate Filled Chocolate Awards 2017 have been released!

Continue reading They're out! Academy of Chocolate Awards 2017
Absolutely delighted to have won two awards at the International Chocolate Awards Drinking Chocolate Competition 2015.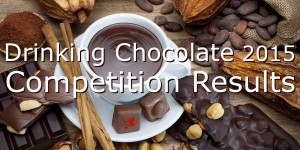 Our House Blend Hot Chocolate picked up a Silver award, and our Gianduja Hot Chocolate won Gold!
Continue reading International Drinking Chocolate Award Winners!