Introducing our first ever luxury chocolate advent calendar, and our luxury vegan advent calendar.
Continue reading

Advent Calendars
We were out braving the cold in Altrincham Market last weekend, but kept warm by good coffee and good company from the other traders.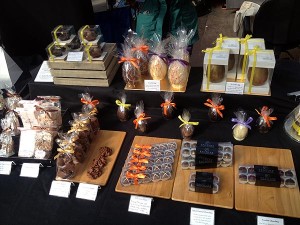 We're very happy to report that we are moving back indoors this weekend, and are in equally lovely company at West Kirby Farmers' Market. If you've been keeping track of our ever growing Easter collection, we will have the entire range on offer at West Kirby, alongside our usual confectionery. We also have some new marshmallow flavours for you to try, and our very popular milk chocolate dipped honeycomb is back, alongside our latest creation – "Hot Cross Buns".
So if you're looking for handmade eggs, or something a bit different for Easter this year, make sure you catch us from 9am-1pm on Saturday 28th in St Andrew's Church Hall, Graham Road, West Kirby CH48 5DE. You can also pre-order all of our Easter products for collection from the market, get in touch if you would like to place an order.
It's almost the end of the month, and time for West Kirby Farmers' Market – see this month's newsletter here.
Alongside our usual confectionery, we will have some special ideas for Mother's Day on 15th March. We will also be presenting a sneak preview of our Easter range, which you will be able to pre-order for collection at the next market, or at the Hoylake Food Fair on the following Sunday (8th March).  You can also now find our Easter range on our Online Boutique. If you would like to reserve anything to pick up at the market this Saturday, please let us know.