It's hard to get away when you're running your own business, especially if it's food related. Somewhere between production, planning, stock management, juggling orders, dealing with suppliers and the constant feeling that there's always more to do, it's hard enough to find time to sleep, never mind jet off on holiday and leave it all behind.
Sometimes, though, it's great to just stop and take stock of where you are at. Even better is if you can add a little "research" to the mix, combining work and pleasure so you feel a little less bad about leaving your business baby on the back burner for a few days.
With that in mind, we managed to take a brief holiday to Paris at the end of September. It's somewhat handy that the City of Love is also the city of chocolate and pastries, and we took full advantage to conduct as much "competitor analysis" as possible. That is to say… we stuffed ourselves full of cake and chocolate. Sometimes even two cakes in one….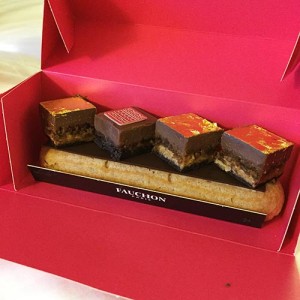 As an artisan producer, we think it's very important that we experience the creations of those chefs who are at the very top of our profession. This not only inspires us, but sets the bar of where we want our products to be. To that end, we drew up a map of Paris' best patisseries and chocolatiers before going away, and managed to visit them all in the few short days that we had. The sheer number of stops on our tour meant that we couldn't try everything whilst we were there, so stuck to the patisserie, and loaded up a suitcase with chocolates to bring home and try later (yes, an entire suitcase dedicated to chocolate!).
Starting as we meant to go on, we stopped off for breakfast at the closest patisserie on our hitlist within walking distance of the hotel. Des Gâteaux et du Pain had one of the best bread and viennoiserie displays we've ever laid eyes upon, but there's an odd thing in Paris where some places who consider themselves at the "fancier" end of the sweet spectrum don't like you taking photos inside the stores (apparently they don't want people to see how awesome their work is), so you'll have to make do with this shot of our breakfast, just before it disappeared: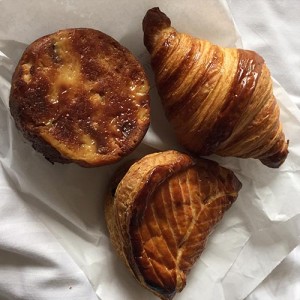 Thus started our pastry and chocolate tour of Paris, and we hit just about every major player in sugar peddling over the course of a few days. Highlights included Alain Ducasse's chocolate manufacture, Pierre Hermé, Cafe Pouchkine, Fauchon, Patrick Roger, and Jacques Genin, but there are plenty of great places and probably even a few we missed.
It's always eye opening to visit these shops in a city where food is so revered, confections are presented like pieces of jewellery (just check out the picture of Jacques Genin's chocolate boutique below), and a cake to eat in with your coffee can cost over £10. There are an unbelievable amount of of these shops operating at such a high level, that sometimes you wonder how they all stay open. Probably due to crazy British tourists coming over to try them all!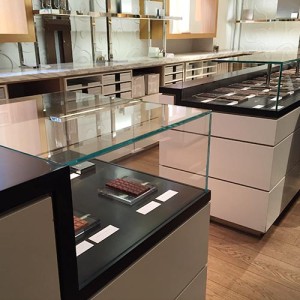 Whilst it's very easy to gush about the patisserie and chocolate in Paris, we genuinely believe that the British are catching up with the French. There are chefs in the UK producing amazing things that rival anything you can get in Paris, and that's what we try to do here at Éponine. What we are still lacking in the UK is the bakery and patisserie culture which pervades the French way of life, and was so obvious while we were there. Shows like the Great British Bake Off are doing a great job at making people interested in quality baking and confectionery on this side of the channel, but we still have a long way to go. Rome (or Paris) wasn't built in a day.