We have recently started working with the food scientists at NoWFood Chester University, testing a selection of our products for things like shelf life, so hopefully soon you will be able to find them popping up on a few shelves in the future. We have therefore been invited to the monthly Food Fest, held in the small hall of Chester University from 11am-2.30pm, and will be there this coming Friday (24th April), followed by our usual West Kirby Farmers' Market on Saturday 25th April.
We've been busy developing some new flavours of confectionery over the past couple of weeks, and have received some brilliant feedback about our new mango & passion fruit marshmallows. To go with the current spate of nice weather, we're going summery (and boozy) this week with a refreshing gin and tonic flavour. Our two most popular marshmallow flavours (raspberry & rose, and praline) will also be back at the markets, after much disappointment from customers last month when we sold out quicker than expected and were too busy with Easter Eggs to make more!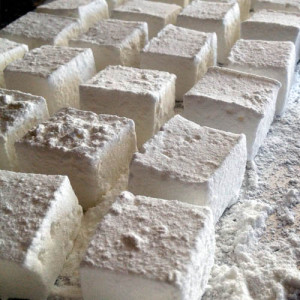 We've also been tweaking a new nougat recipe that has been in the works for a while, with honey, pistachios, almonds and a touch of rose water giving a wonderful middle-eastern inspired flavour. If you love nougat, you have to try this one!