Most people tend to think of summer as peak "wedding season", but winter weddings seemed even more popular with our customers in 2014, as we were snowed under with orders for cakes, favours and everything in between.
Chocolate wedding favours were particularly popular, and are a great choice if you're looking for something special and unique to treat your guests. From look and flavour, to custom made boxes and luxury packaging, we offer a completely bespoke service allowing you to customise every aspect of your chocolate wedding favours.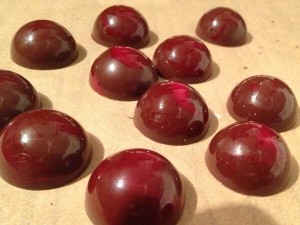 After speaking with a lot of couples last year, it was clear that our customers are looking for luxury favours, handmade with fresh, natural ingredients, but that a fully bespoke service can be a little daunting due to the nearly limitless options available. Whilst we are always on hand to guide and advise in the creation of your dream favours, we also saw the need to offer a range of "off the shelf" options, which maintain these core values whilst seriously simplifying the whole process down to a few clicks.
We have now introduced a small range of wedding favours available to purchase through the online shop. There's a selection of some of our most popular chocolate favours, from elegant truffles to lollipops shaped as wedding cakes. Presented in simple, elegant packaging, they arrive perfect as they are, or can be easily customised to fit your tastes and wedding theme. Your favours can be ordered in advance, and will be freshly made and posted to you in time for your special day.
If you're looking for your perfect favours or wedding cake, please get in contact with us to see how we can help.