For our first blog post of 2015, we would like to wish you all a Happy New Year and thank everyone who shopped with us over the Christmas period – we hope everyone enjoyed their presents!
We've had a bit of a break after the Christmas rush to recover from a month of manic mince pie baking, sell out markets and lots of ribbon tying! There were also some very unique private orders, from bespoke gifts made entirely of chocolate, to our first ever doughnut wedding tower: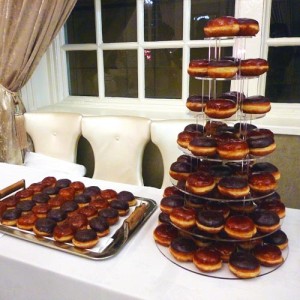 Our online shop is back up and running after the Christmas break – orders placed during the holidays will be dispatched early next week and with you soon. It's also your last chance to grab a few Christmas favourites. Many products have already sold out, and when they are gone they won't be back until next Christmas.
You can however look forward to new products coming up for 2015, including our new range of chocolate bars. We also have a few special items in the works for the next big date in every chocoholic's calendar – Valentine's Day <3