Spent a couple of days this week at Chester racecourse joining the Taste Cheshire Retail Village at the Audi International & Roodee Challenge Cup Tournament (polo).
We arrived bright and early with a full stock of 8 different marshmallow flavours (including the new Cassis and Violet), along with butter caramels, nougat, pate de fruit, macarons, and all sorts of chocolates. With the sunshine overtaking the rain, everyone really seemed to enjoy the day. I think the main highlight for us was being so close to so many beautiful horses.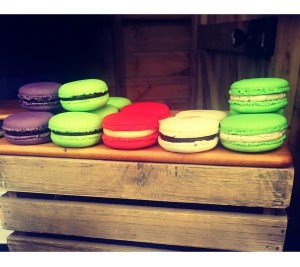 The photograph of our macarons (left) was taken by the lovely ladies from Links of London, who were one of the sponsors for this event for the MVP award. They encouraged a lot of viewer participation with their hidden silver cork on the pitch; it was only able to be found whilst divot stamping, and was exchanged for a beautiful item from their pop-up store.
We're glad they enjoyed our macarons, as well as the Pina Colada marshmallows!