We are delighted to announce the arrival of our new Vegan Chocolate Collection!
We have always said that we didn't want to make any bonbons which sacrificed quality to meet dietary requirements. If a bonbon was vegan, we wanted it to be because the recipe happened to be, not because we had made it vegan through substitutions and compromises.
After a lot of work, and a LOT of chocolates, we are delighted to introduce our first ever vegan collection, available now in our online shop.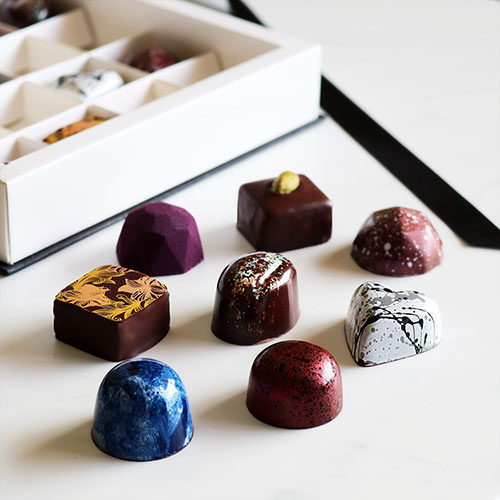 The breakthrough that led to this collection started with the development of our raspberry bonbon. The aim was to produce a chocolate with a very clear and bright raspberry flavour, and during development we found ourselves removing more and more of the dairy content. This led to a realisation that by completely removing the dairy, we could create a chocolate with an improved raspberry flavour, and that this would have the happy side effect of making it vegan-friendly.
Early versions of this recipe created a chocolate with an incredibly fresh and clear fruit flavour, but removing the cream and butter left it with a strange texture. It took us several more months of development to create a dairy-less ganache with the flavour we were looking for, and the same smooth, melting texture as a dairy ganache.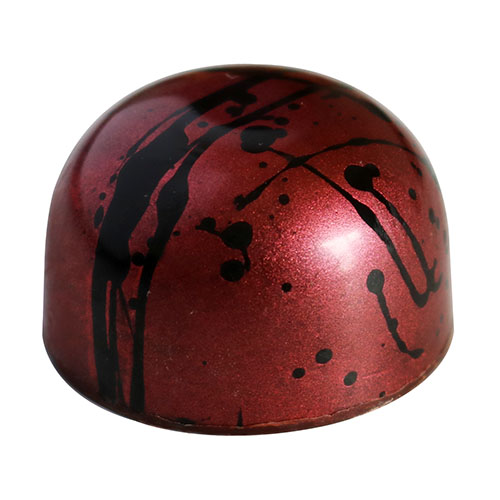 To see what people thought about this new ganache, our dairy-less raspberry chocolate was entered into the fruit flavoured ganaches category of the Academy of Chocolate Awards 2018, where it received a Silver Award. This confirmed that we had achieved what we set out to do; to create a ganache which was not only vegan-friendly, but was improved by removing dairy and was just as good as our other bonbons.
The success of our new ganache led to a burst of creativity in the kitchen, as we experimented with different flavours to see which would benefit from this new method.
This new vegan collection brings together 8 of our favourite recipes, all of which are vegan friendly with absolutely no compromise on quality.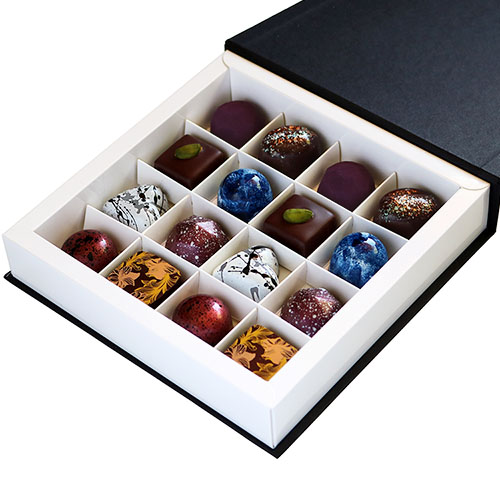 Our first ever vegan collection includes the following flavours:
Cherry Pistachio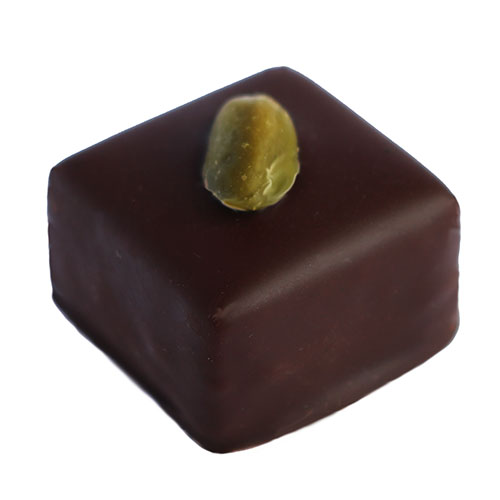 One of the classic flavours that has been in our collection for a long time, and also happens to be vegan. A layer of intense cherry jelly is set with pectin rather than gelatin, and topped with a rich marzipan made with Mediterranean almonds and the very best bright green pistachios. Each bonbon is decorated with a single whole pistachio for added texture and flavour.
Raspberry dark chocolate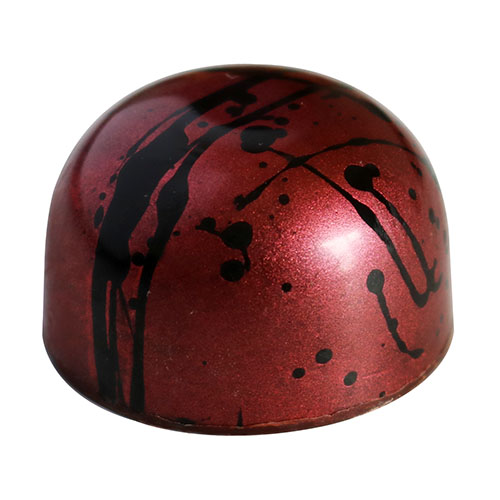 Our first completely dairy-less ganache, made with raspberry puree and fruity Madagascan single-origin dark chocolate. We've added a layer of raspberry compote for an added burst of red fruit flavour.
Tahitian Vanilla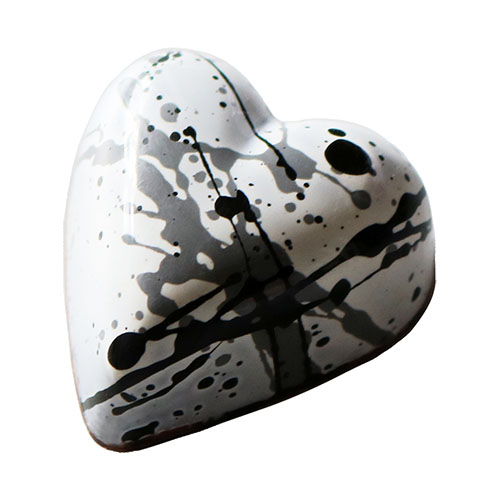 The clarity of flavour provided by our unique vegan friendly ganache is the ideal way to experience the full aromatic profile of this spectacular vanilla. Sourced from a single family-run plantation on the island of Bora Bora, the Tahitian vanilla pods used in this ganache have an incredibly complex flavour, with notes of cherry, prune, liquorice and spices.
Passion Fruit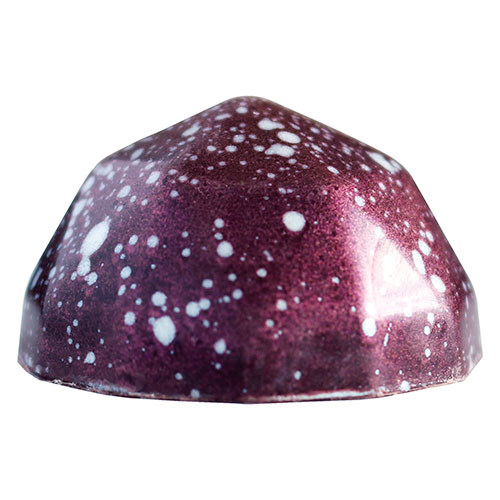 Our passion fruit bonbon is usually made with milk chocolate and is a customer favourite, but we often get requests for a dark chocolate version. With no dairy fats to coat your palate, the sharp, bright flavour of passion fruit becomes incredibly intense in this dark chocolate ganache.
Coconut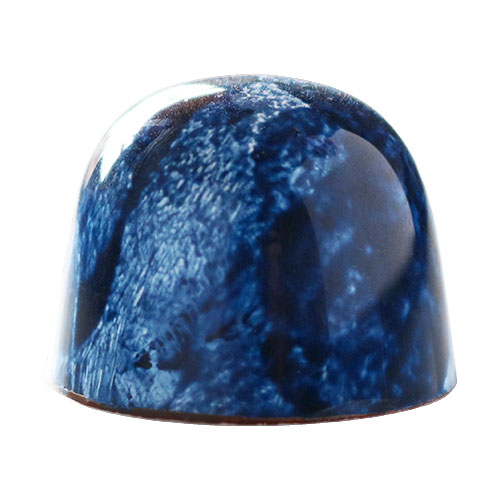 Coconut cream makes a wonderful substitution for milk-based cream, so it was a natural choice for a bonbon without dairy. Paired with a grand-cru dark chocolate in a meltingly smooth ganache, this chocolate has a beautiful fresh coconut flavour.
Coriander Praline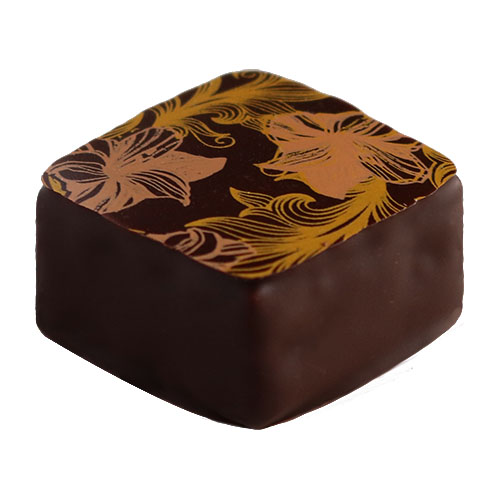 Coriander seed is a wonderfully aromatic spice, with a citrus flavour that works beautifully with praline. We added puffed rice and popping candy for texture and added flavour. This is a bonbon we had been developing for a while and turned out to be naturally vegan-friendly.
Blackcurrant Juniper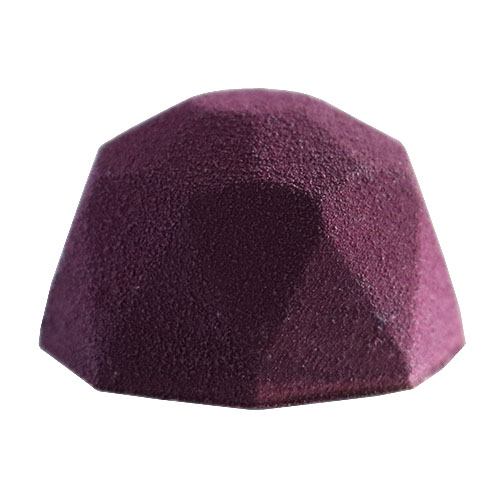 We've slow infused juniper berries into a dark chocolate ganache and paired it with a layer of blackcurrant compote. Juniper is the main botanical in gin and has a woody, herbal flavour reminiscent of pine, which works beautifully with the tart blackcurrant and rich dark chocolate.
Coffee and Cardamom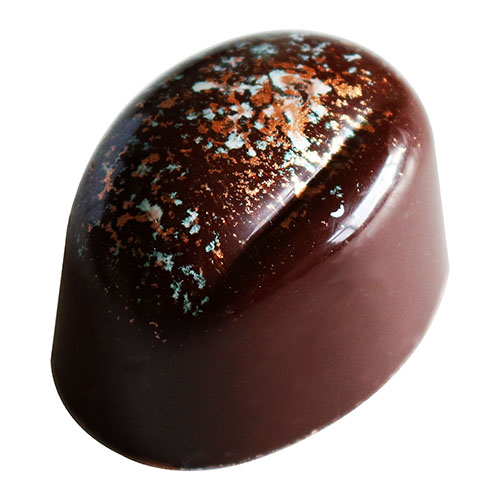 A flavour we had developed a couple of years ago as a praline. Splitting what used to be a single layered chocolate into two layers of dairy-less espresso ganache and cardamom infused hazelnut praline allows the flavours to be delivered separately, bringing a new dimension and complexity to this bonbon.
Of course, all of the chocolates in this collection can be enjoyed by non-vegans too – order a box today to try them yourself! Let us know what you think by email or on social media. P.S. Don't forget to include a photo and #EponinePatiss for a chance to win a box of chocolates in this month's competition.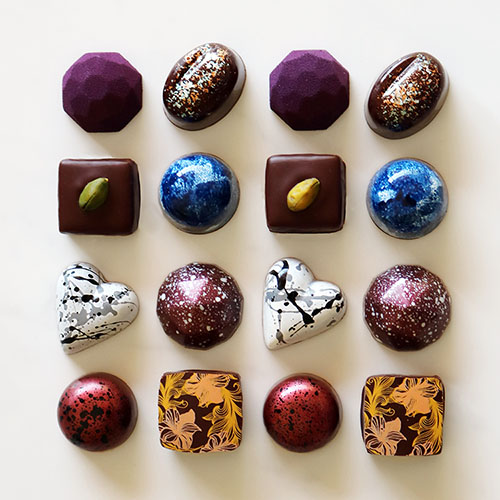 The vegan collection is produced to vegan-friendly recipes without gluten, in a kitchen which handles gluten and non-vegan ingredients. Available now in our online shop.
---
Subscribe to the Éponine Newsletter by clicking the button below and be the first to hear about new products like this, along with special offers, promotions and exclusive competitions throughout the year. Clicking on the button will open a new window or tab to take you to our signup form.