This is going to be the first in a series of product spotlight blogs about some of our items. We're going to start with caramels, in part due to the sheer popularity of salted caramel in all its forms, but also because we make them a little differently….
Our caramels are made in the traditional French style, and are very different from the hard caramels we are used to in England. Our rich, buttery recipe, combined with precise temperature control during cooking, produces caramels which are soft, melting, and won't stick your teeth together!
All caramels start with sugar, slowly cooked to a deep amber colour to fully develop the complex caramel flavours. Whilst the sugar is cooking, we infuse cream with fresh, natural flavours, such as the finest vanilla pods, spices, fruit juices and purees. At just the right moment, the infused cream is added to the sugar, stopping the cooking and caramelisation process.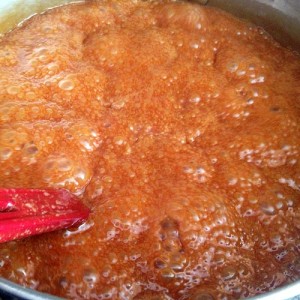 The bubbling pot of caramel is then cooked to a precise temperature, which gives it the perfect soft texture when set. We then add lots of creamy, fresh butter and pour the molten caramel into frames to cool.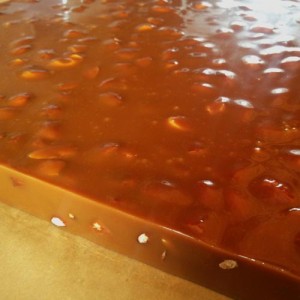 Once the caramel has cooled and set, it is removed from the frame and hand cut into bite size pieces. Every single piece is then hand wrapped in cellophane to protect the sweets and keep them fresh.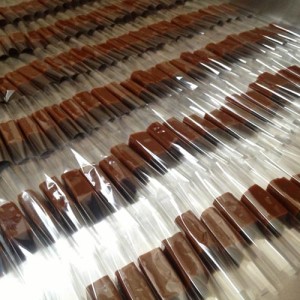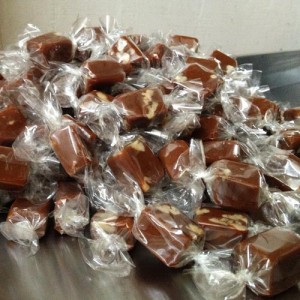 We chose tins to package our caramels for a number of reasons. The most important thing is that it keeps them in top condition by protecting from humidity and sunlight, but we think they look pretty snappy too. Another great thing about these tins is that you can reuse them however you like! They are handy things to have around the kitchen for storing teas, coffees and spices, and are fully recyclable – we love a bit of eco-friendliness.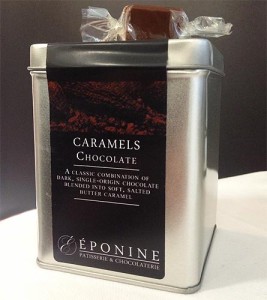 While classic salted caramels have always been the most popular, we produce a wide range of flavours, including nuts, spices and fruits. A range of the most popular flavours are available through our online boutique, included classic salted, chocolate and maple pecan.