We're so happy to share with you our new range of hot chocolate stirrers!

What is a hot chocolate stirrer? Also known as a hot chocolate spoon, these amazing stirrers can create a proper hot chocolate in minutes. Simply stir them into a mug of hot milk, and watch as the generous block of chocolate melts away to create a delicious luxury hot chocolate drink! (You might want to try licking the melting chocolate off the edge of the block part way through… but we didn't tell you that…)
Our hot chocolate stirrers have been a huge hit since we first launched them, and they are now better than ever. The new range features 4 of our most popular flavours in new sleek packaging, which you can see below.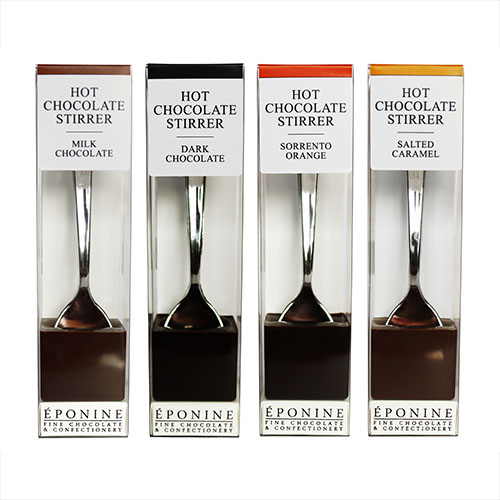 Milk Chocolate – Our own blend luxury milk chocolate with a very high cocoa, specifically created to produce a delicious drink with the sweet creaminess of milk chocolate.
Dark Chocolate – For those who enjoy the richness of dark chocolate, this dark chocolate stirrer is a perfect choice. It's also suitable for vegans – try it with hazelnut or coconut milk!
Salted Caramel – A high cocoa milk chocolate made with caramelised sugar and sea salt, to create a very moreish hot chocolate with a sweet caramel flavour.
Sorrento Orange – A classic combination of rich chocolate and the fragrant essential oil of Sorrento oranges. It's also vegan friendly – try it with almond milk!
These four classic flavours are already available in our Online Boutique. Hot chocolate fans can also look forward to more exciting new flavours coming soon!
Want to know when we release new products? Subscribe to the Eponine newsletter and be the first to hear about all of our new products. You'll also receive exclusive promotions and competitions throughout the year.
Subscribe to the Éponine Newsletter