Another fun weekend at Altrincham Market, and our first Saturday trading at the market.
We arrived armed with new flavours of mallows and three very different tarts (see below) – Chocolate & Salted caramel, Raspberry & Pistachio Breton, and Lemon meringue. I think the lemon meringue was our most popular.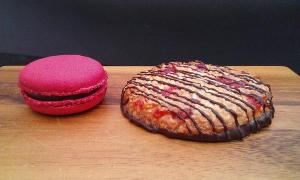 Hope everyone enjoyed the macarons AND macaroons. We had a little bit of confusion having both on one day – have to bring them both again when we're back in Altrincham on Saturday 4th October.
Looking forward to West Kirby Farmers' Market this Saturday (27/09/14)…… menu planning tomorrow!