Last weekend we were out and about again exhibiting at Shrewsbury Chocolate Festival.

This chocolate festival was another first for us, so we weren't sure what to expect – you can read our blog post about it here. In previous years, the festival was held in St Mary's Church, but this year was moved to the Quarry Park to accommodate even more chocolate, food stalls, demos and live music. Here's a sneak peak of the tent during setup:
Today's assignment @ShrewsChocFest Should be a good but hard day to abstain from the Chocolate!! #IWillBeGood pic.twitter.com/4wkfcyIumk

— PROSECURE 2000 UK (@prosecure2000) November 18, 2017
We travelled down the day before the festival to get ourselves ready in the marquee, then met up with some of the other chocolatiers for a dinner very kindly hosted by Jonathan from Middletown Hill (Marou Chocolate):
Kicking off @ShrewsChocFest with a dinner party at the @MiddletownHill household with this lovely lot ???? #cacaolove pic.twitter.com/I5vrAAFEey

— Hazel Lee (@hazel_choc) November 17, 2017
It was amazing to see how the festival has grown, and just how many customers braved the cold to come and visit, with some 10,000 chocolate lovers visiting over the course of the weekend. Even having moved from a small Church hall to a much larger marquee, it was still incredibly busy. It's great to see so many people interested by artisan chocolate, and speaks volumes about what the organisers have achieved in creating such a well attended festival with so many high quality producers. Next year, we're going to need an even bigger marquee!
Thanks to everyone who came out to visit the festival and support artisan chocolate producers. There were some great shots of our chocolates floating around afterwards, we particularly liked this one by El Thurston:
Had a great time at #shrewsburychocolatefestival on Saturday! Huge haul including some amazing goodies from #EponinePatiss ?? pic.twitter.com/MVzhwC1Ikl

— El Thurston (@PinkSnailShells) November 19, 2017
Speaking of pictures… our chocolates (and us!) also made it into Shropshire Star.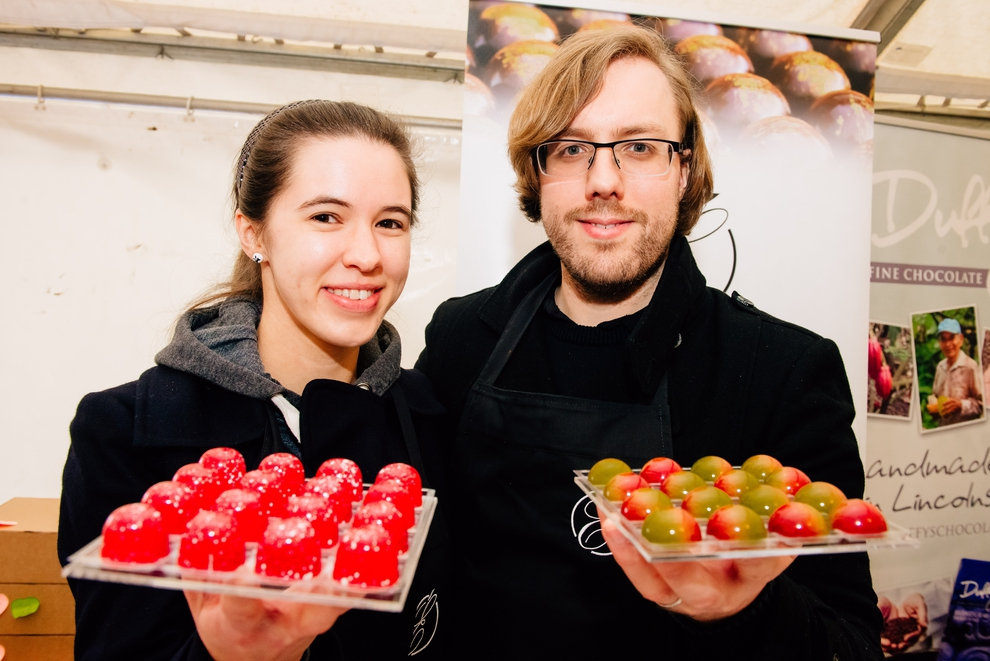 It was an amazing weekend, and we would like to give a big thank you to Julia (the head honcho) and everyone else involved in putting the festival together and making it run so smoothly.
Our thanks also to Guittard for supplying the chocolate for the charity lollipop making stand. We noticed lots of people wandering around nibbling on chocolate lollies, and it raised an incredible £700 for two very worthy charities – The Shrewsbury Ark and Birmingham Children's Hospital.
A final thank you to all the other chocolatiers and chocolate makers who made Shrewsbury Chocolate Festival so special.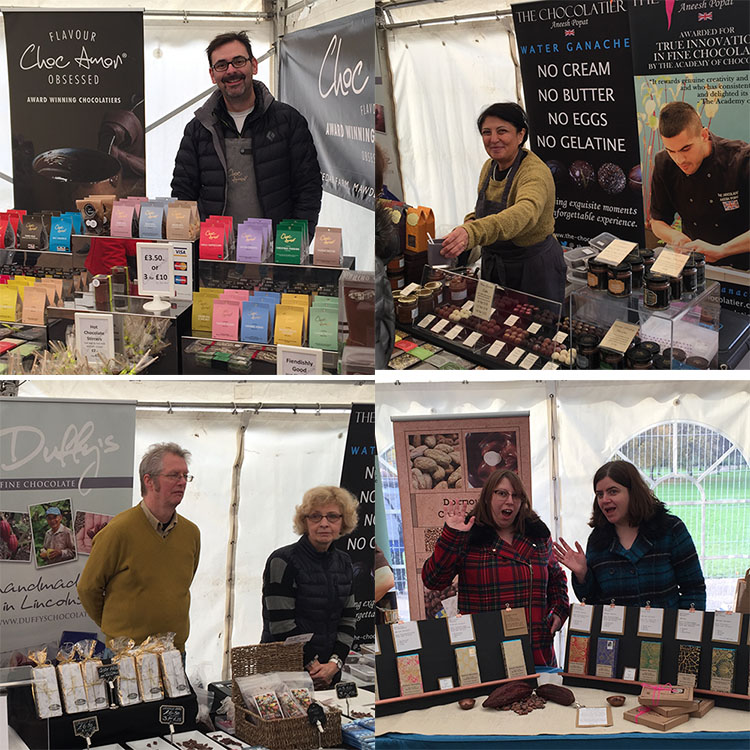 If you missed out on the festival this year, next year's provisional dates are 17-18th November 2018 – we can't wait!
---
Are you subscribed? Sign up below to receive the Eponine newsletter and be the first to hear about big shows we're attending, along with information about new products, promotions and exclusive competitions throughout the year.
Subscribe to the Éponine Newsletter